Allroad Tour Team´s Winter Trip to Lapland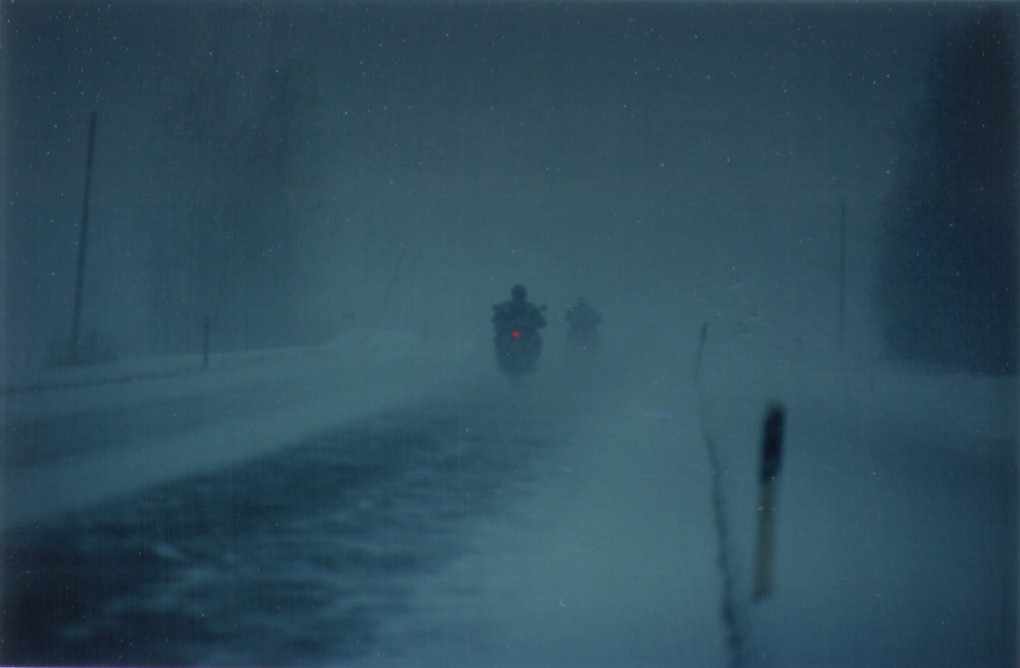 Soon after Allroad Tour 2000 Guhtur was ridden our team started to build up an idea of winter riding. Because none of us had really tried it before, we wanted to clarify what is it all about. We decided to test ourselves, our bikes and riding gear on a trip to Levi near Kittilä where there was a great snowmobile race, Kärcher K1NG, taking place.
Following route plan was made: Monday 5.3. Helsinki-Jyväskylä (272 kms), Tuesday 6.3. Jyväskylä-Kajaani (315 kms), Wednesday 7.3. Kajaani-Suomussalmi-Rovaniemi (400 kms), Thursday 8.3. Rovaniemi-Levi (150 kms), Friday and Saturday 9.-10.3. at Levi watching the race, Saturday evening Levi-Rovaniemi (150 kms) and Sunday 11.3. Rovaniemi-Helsinki (840 kms). Because we could not resist taking some short cuts the total length of the trip was about 2.600 kilometres (Uups!). Two of us, Pekka Heikkinen with BMW R1100GS and Ari Peltola with Honda XRV750 Africa Twin, started from Helsinki. Marko Savela with BMW F650GS Dakar joined the group at Jyväskylä and Timo Laaksoviita with KTM 640 Adventure at Suomussalmi.
During the first days the temperature at day time was -15...-8 C with bright sunshine. The night temperature was still -25…-20 C. Towards the end of the trip it started to snow and the temperature rise around zero. Main roads were in bad condition in the south, in other words salted and therefore unfrozen and wet.
More to the north road salt is barely used and riding was much more fun on dry icy roads. However 80...85 kms/h could be kept as normal touring speed. To save the studded tyres the speed was always kept under 90 kms/h.
Driving the main roads soon turned out boring and we decided to check the condition of smaller roads. These were totally cov-ered by snow or ice and there were deep wear ruts from car tyres. Usually the surface was roughed with road drag which is normal way to keep the roads trafficable during the winter. Road salt or sand is only used in some bigger crossings. On a grooved surface like this it is impossible to force the bike to go straight. Heavy bike wanders and wiggles when the studs try to bite grip. First this felt quite malicious but after a while you got used to it. The only way to go was to relax ones locked shoul-ders and let the bike dance its ice waltz.
On the tyres we all used so called van or lorry studs. On dry asphalt the tyre is slippery and no cornering is possible. If you try to incline the bike the front wheel starts immediately loose its grip. Also front wheel braking is fine piece of art. On ice cov-ered asphalt or snowy surface the studs give just enough grip to enable riding and manouvering. Still one has to remember the laws of nature. An important thing is to maintain tyre pressure low enough. With heavy bikes like ours tyres worked best with the pressure around 1,0…1,5 bar.
Overall the trip was a great success. No damages or fallings took place and bikes ran very well without starting problems. How it was with the riders you can read from the link Bikes and Gear.